At Banks Benchtops, we specialise in premium stone kitchen benchtops custom-made to suit your specific needs and preferences. Our team of knowledgeable experts can assist you throughout the entire process, from selecting the perfect brand and color to completing the installation of your kitchen benchtop. We offer a wide range of stone options including marble, granite, quartzite and engineered stone, in various colours and patterns to match your kitchen décor.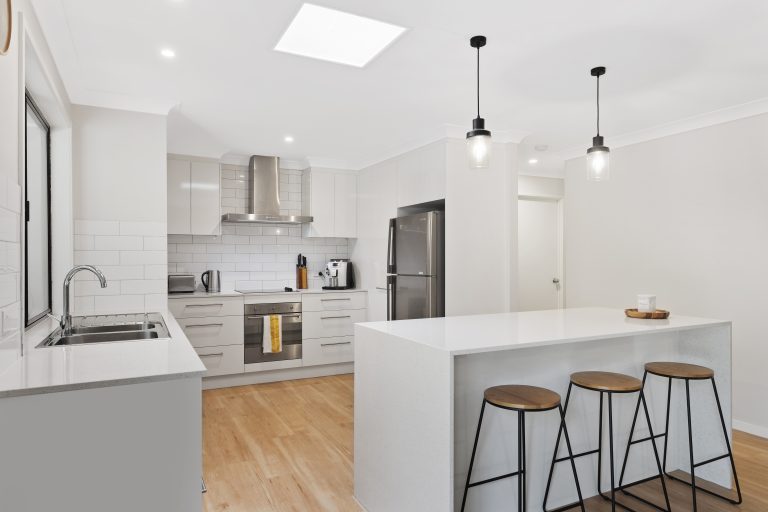 Quartz Kitchen Benchtops
Quartzite is a naturally occurring stone that boasts a remarkable aesthetic appeal and durability due to its exceptional hardness.
As a decorative stone, quartz is growing in popularity among designers and architects. It's the ideal choice for kitchen benchtops and bathroom benchtops. More resilient to stains, quartzite is an excellent choice for people seeking style and practicality, durability and hard-wearing surfaces.
Quartzite is a natural stone that is highly resistant to heat, scratches, and stains. This makes it a popular choice for kitchen stone benchtops, bathroom countertops, splashbacks, flooring, fireplace surrounds and outdoor spaces.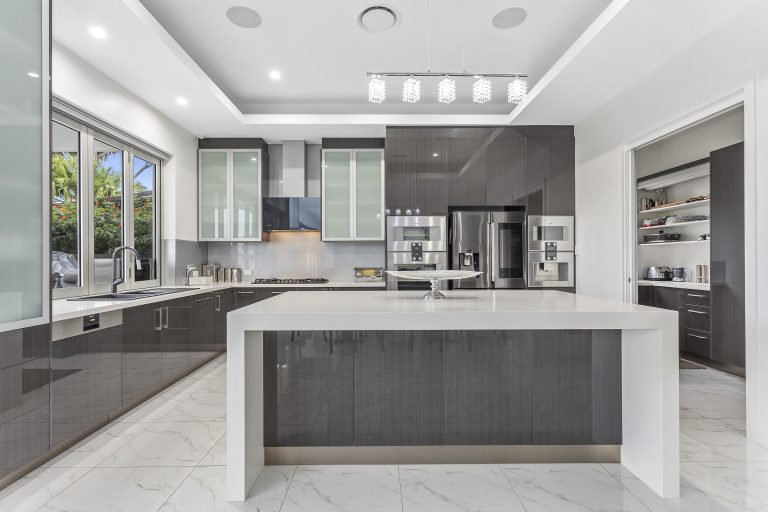 Marble Kitchen Benchtops
Marble has been the epitome of elegance for centuries and is a popular choice for kitchen stone benchtops.
Marble is a natural stone that is sought-after around the world for its beauty. Marble is soft and delicate, but may be prone to etching. Most commonly, marble is white, grey or black; although, it can also be pink, green, brown or gold.
Marble is perfect for kitchen benchtops, splashbacks and cabinetry cladding. Being softer, marble is ideal for intricate designs and sculpting. Marble can also be used in bathrooms, vanities, showers, flooring, wall features, cladding and outdoors.
CDK Stone has an extensive range of marble from around the world which is perfect for natural stone benchtops. On the Gold Coast, Calacatta, Carrara and Elba are the most sought-after types of marble.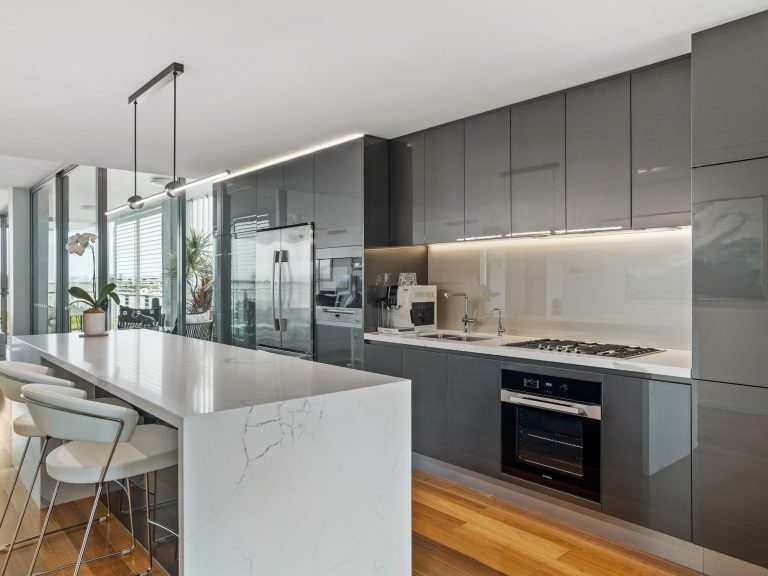 Granite Kitchen Benchtops
Granite is a natural stone that has stood the test of time with its enduring beauty and exceptional durability.
Granite is extremely hard and durable. Due to its chemical properties, granite is resistant to abrasion, impacts and is less prone to scratching, etching and weathering. Granite is most commonly black, white, pink or grey; although, it can be blue, green, brown or red.
Granite is perfect for natural stone benchtops, kitchen benchtops, bathroom countertops, flooring, backsplashes, and even outdoor spaces such as patios and decks. Granite can also be used on tabletops, and other decorative elements in residential or commercial properties.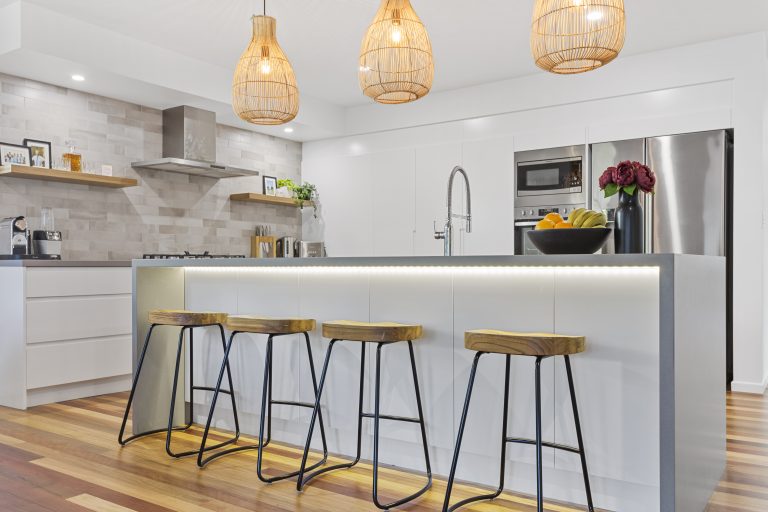 Concrete Kitchen Benchtops
Concrete benchtops have become a popular choice because they are strong and durable - great for busy households.
A concrete benchtop is made from a mixture of cement, aggregates and water. To manufacture a concrete benchtop this mixture is poured into a mold and cured to create a hard and durable surface.
Concrete is very popular for kitchen benchtops, but it's also common for bathroom countertops, laundry benchtops and outdoor entertainment areas.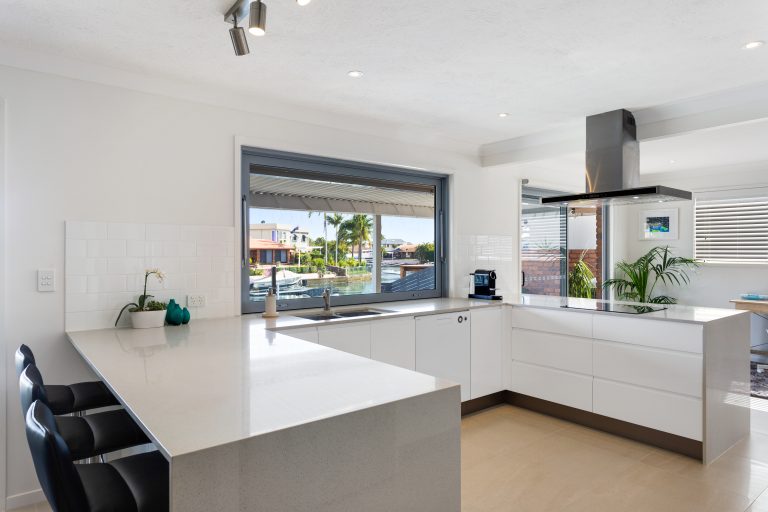 Caesarstone Kitchen Benchtops
Caesarstone is well-known for its versatility, durability, and expansive range of designs and colours.
Caesarstone is a type of engineered stone surface made by combining natural quartz with polymer resins and pigments. Caesarstone is durable, non-porous and resistant to scratches, stains and heat. It's easy to maintain and clean.
Caesarstone is a popular material for kitchen benchtops and bathroom countertops, as well as other applications such as splashbacks, walls, and flooring.
More Info
Stone Benchtop Features
Mitred Edge
Waterfall Edge
Stone Thickness
Stone Texture
Benchtop Overhang
Undermount Sink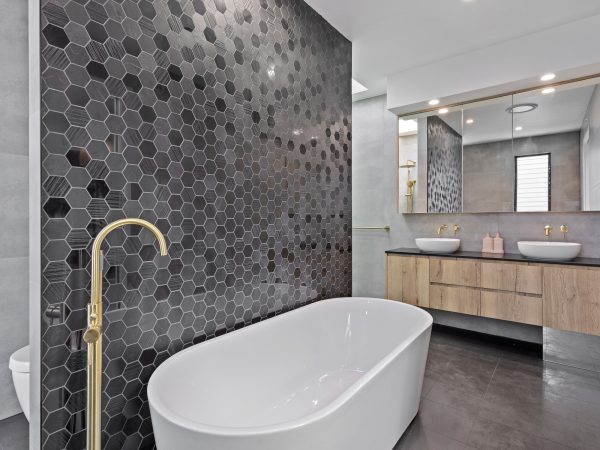 A mitred edge is one option for stone kitchen benchtops. It's where two pieces of stone are cut at a 45-degree angle and joined together to create a seamless edge. It creates a modern and sleek look and is often used for stone island benchtops and waterfall edges. It's suitable for granite, marble, Caesarstone, concrete and quartzite stone benchtops.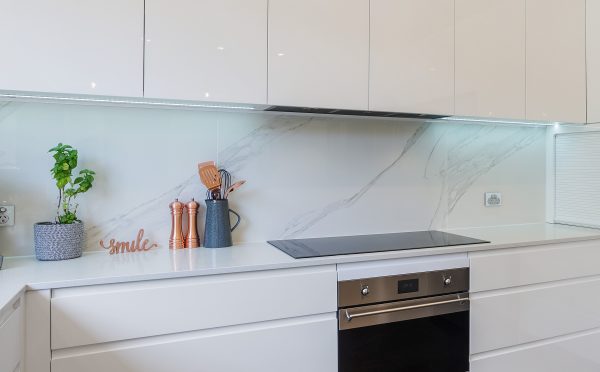 At Banks Benchtops, we offer waterfall edge stone kitchen benchtops. This profile is where the stone benchtop continues vertically down the sides of an island or bench. This cascading effect resembles a waterfall and is a popular choice for minimalist kitchen designs.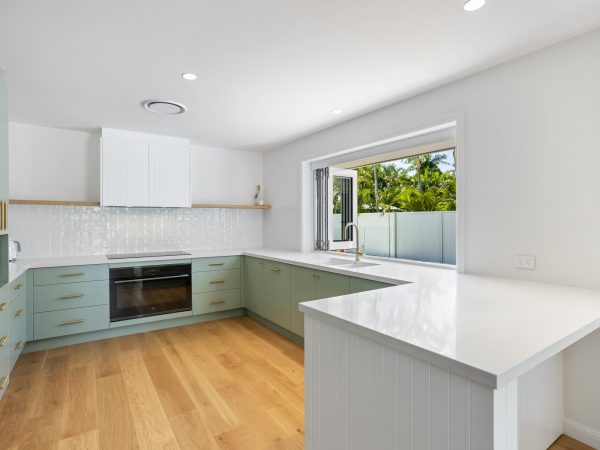 The thickness of the slab doesn't impact the design, only the aesthetics.
At Banks Benchtops, we build and install mitred benchtops. However, solid 30mm stone benchtops are an excellent alternative. They require less manufacturing, which makes them more affordable.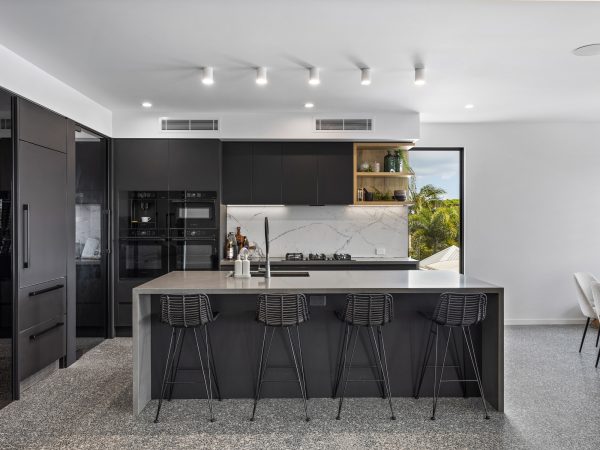 There are three finishes for stone benchtops, polished, matt/honed and textured.
Polished is a more luxurious finish, where the stone surface is polished to the highest level. It provides a shinier, elegant look with a strong depth of colour. Matt or honed is less polished and a less reflective surface.
Textured only relates to natural stone. A leather finish amplifies the stone's natural finish, while still being easy to clean. A flamed finish is rougher, usually used for granite benchtops.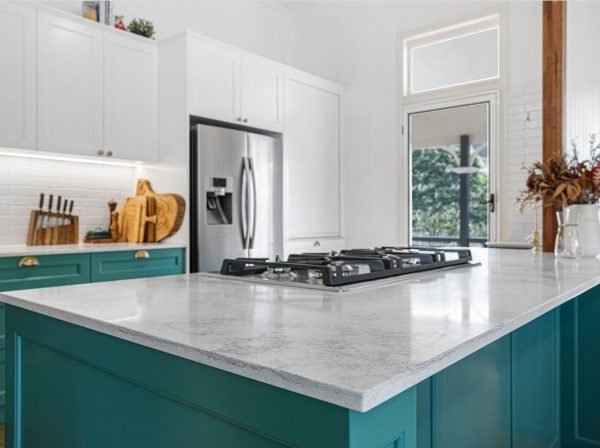 Incorporating a breakfast bar or stool seating is a popular choice for lovers of open-plan living. It adds to the cost of the stone, but also adds functionality and character to your space.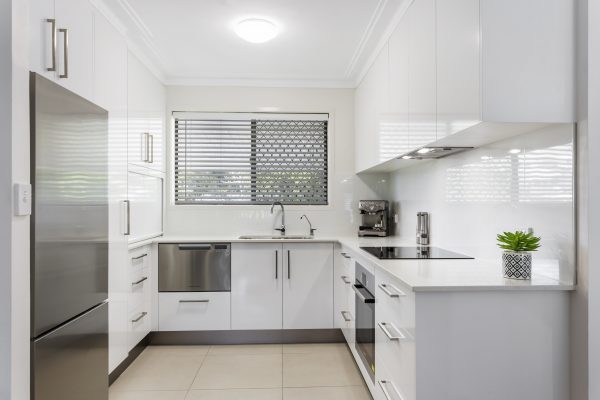 When you have a stone benchtop installed it's the perfect opportunity to install an undermount sink. Undermount sinks are placed underneath the benchtop surface, creating a seamless look that enhances the overall aesthetic of the kitchen or bathroom.
Undermount sinks are perfect for minimalist kitchens and create a modern and sleek look. Installing an undermount sink eliminates the need for any additional cutting or drilling into your benchtop.
More Info
FAQs
What are the benefits of choosing a stone benchtop for my kitchen?
Stone benchtops are durable, heat-resistant, and can withstand scratches and stains. They are also a great investment for your home as they can add value to your property.
What is the difference between engineered stone, marble and granite, and which one is better for a kitchen benchtop?
Granite is a harder stone than marble, and is more resistant to scratches and stains. However, marble is more suitable for intricate designs and can add a luxurious touch to your kitchen. Engineered stone is highly resistant to scratches, heat and stains and come in a huge variety of styles and colours.
Marble and granite benchtops need to be sealed every year, whereas engineered stone doesn't. All three materials are excellent choices for stone kitchen benchtops, which one you choose will depend on your personal preferences.
How do I maintain and clean my stone kitchen benchtop?
Stone benchtops only need simple cleaning with warm water or a mild household cleaner and a soft cloth or sponge.  Harsh chemicals and abrasive materials should be avoided.
To prevent stains on natural stone benchtops, coasters and placemats should be used to avoid direct contact with acidic or corrosive substances. Cutting directly on the stone surface should be avoided. Always wipe away spills immediately.
Marble and Granite kitchen benchtops need to be sealed up to once a year (especially for marble) whereas engineered stone never needs to be sealed.
Can stone benchtops be used for outdoor kitchens?
Yes, stone benchtops are a popular choice for outdoor entertaining areas. They are a strong and durable option for outdoor kitchen benchtops and tables.
How do I know which type of stone benchtop is right for my kitchen?
It's best to speak with a professional stone supplier and installer who can guide you through the different options and help you choose the right type of stone benchtop for your specific needs and preferences.
At Banks Benchtops, our experienced team can help you select the right brand and material for your kitchen benchtop and give you advice backed by years of working in the stone benchtop industry.
Can I install a stone benchtop without replacing my cabinets?
Yes, you can install a stone benchtop without replacing your cabinets. This is a great way to give your kitchen a fresh new look without the expense of changing all the cabinetry.
How long will it take to get my stone kitchen benchtop?
At Banks Benchtops, we strive to ensure that the entire process of installing your stone kitchen benchtops is seamless and well-organised.
To begin, we require a signed go-ahead quote and a 50% deposit to order the stone for your benchtop. Once we have the stone in our factory one week before the install date, we schedule the job two weeks in advance, allowing ample time for planning and measuring.
We typically measure on a Monday and install the benchtop that Thursday. This process ensures that we have enough time to plan and organise everything, providing you with the best possible service and an efficient installation process.
How do I choose the right color and design for my stone benchtop?
When choosing the colour and design of your stone kitchen benchtop, it's important to consider the style and colour scheme of your kitchen.
At Banks Benchtops, we work with a variety of brands that offer a huge variety of styles and colours for stone benchtops in Brisbane and on the Gold Coast. Our team can give you expert advice to ensure you make the right decision when choosing your kitchen benchtop.
How much does it cost to install a stone benchtop?
The cost of installing a stone kitchen benchtop can vary depending on the type of stone, the size of the benchtop, and the complexity of the installation.
Banks Benchtops offers instant online quotes for stone kitchen benchtops throughout Brisbane and the Gold Coast.