At Banks Benchtops, we are experts in providing premium quality stone laundry benchtops on the Gold Coast and throughout Brisbane. We pride ourselves on our exceptional customer service, and our experienced team will help you every step of the way to design a laundry benchtop you love. With our extensive knowledge and skills, you can be sure that we will help you choose a benchtop that not only looks stunning, but is also extremely functional for years to come.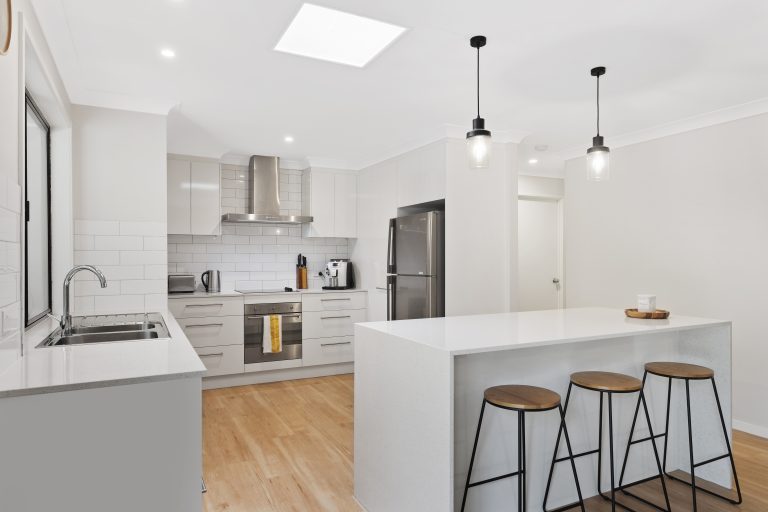 Quartz Laundry Benchtops
Quartzite is a beautiful natural stone that is both durable and practical.
When it comes to laundry benchtops, quartzite or quartz is an increasingly popular choice for its exceptional durability and beautiful appearance. This natural stone has a hard-wearing surface that is resistant to stains, making it perfect for busy laundry benchtops.
Additionally, quartzite's aesthetic appeal has made it a popular choice among designers and architects as a decorative stone, particularly for laundry benchtops. If you want a laundry benchtop that is both stylish and practical, quartzite is a great choice.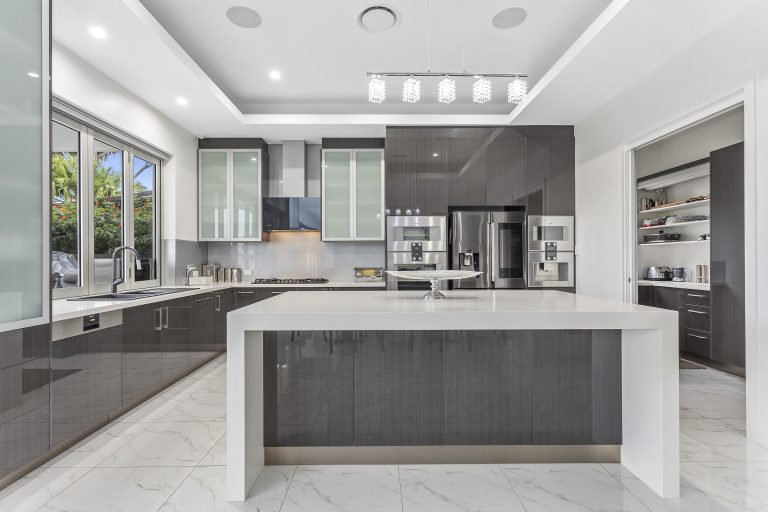 Marble Laundry Benchtops
Elevate the style and look of your laundry with the luxury of marble.
A luxurious building material, marble has become a popular choice for laundry benchtops due to its one-of-a-kind elegance and beauty. While it is a soft and delicate stone that can be prone to etching, its intricate patterns and luxurious aura make it an ideal option for those who seek a sophisticated and timeless look for their stone laundry benchtop.
Marble is not limited to white, grey, or black; it also comes in various shades of pink, green, brown, and gold, offering a vast array of design possibilities. CDK Stone offers an extensive range of marble sourced from around the world, with Calacatta, Carrara, and Elba being the most popular choices in Gold Coast.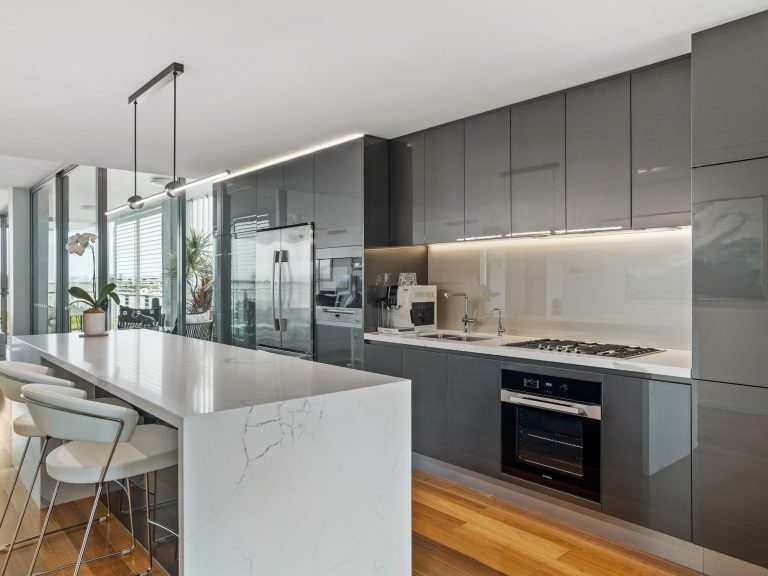 Granite Laundry Benchtops
Due to it's durability, granite is a popular choice for stone benchtops on the Gold Coast.
For laundry benchtops, you need a material that can withstand daily wear and tear, and granite ticks all the boxes. Granite is a highly durable natural stone known for its exceptional hardness and resistance to abrasion and impact.
Thanks to its unique chemical properties, granite is also highly resistant to scratching, etching, and weathering, ensuring your laundry benchtops maintain their pristine look for years to come.
With a wide range of colors available, including black, white, pink, grey, blue, green, brown, and red, you can easily find the perfect granite to match your laundry's design.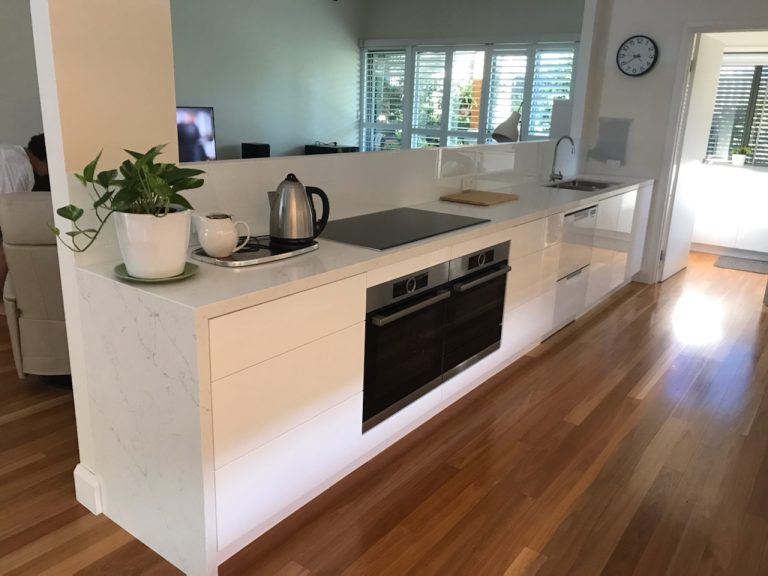 Concrete Laundry Benchtops
Concrete has become a popular material for stone benchtops on the Gold Coast due to its strength and durability.
Concrete benchtops are a popular option for a minimalist laundry design. These benchtops are typically made from a combination of cement, aggregates, and water, which are then poured into a mold and cured to create a sturdy and long-lasting surface.
The minimalist look of a concrete laundry benchtop perfectly complements a modern, clean aesthetic. With its simple, sleek lines and neutral tones, a concrete benchtop can easily become the focal point of a laundry room without overwhelming the space.
Not only does a minimalist laundry benchtop look great, but it's also a practical choice. With its durable and hard-wearing surface, a concrete benchtop can withstand the wear and tear of everyday use. It's also easy to clean and maintain, making it an ideal choice for a busy laundry room.
Caesarstone Laundry Benchtops
Caesarstone's versatility, exceptional durability, and extensive range of designs and colors have made it a great choice for laundry benchtops.
Caesarstone is an engineered stone surface created by blending natural quartz with polymer resins and pigments. It creates a non-porous and highly durable material that is resistant to scratches, stains, and heat.
Thanks to these qualities, it's a popular choice for laundry benchtops. Its easy-to-clean and low-maintenance qualities add to its appeal, making it a practical option for anyone seeking a long-lasting and versatile laundry countertop.
More Info
Stone Benchtop Features
Mitred Edge
Waterfall Edge
Stone Thickness
Stone Texture
Undermount Sink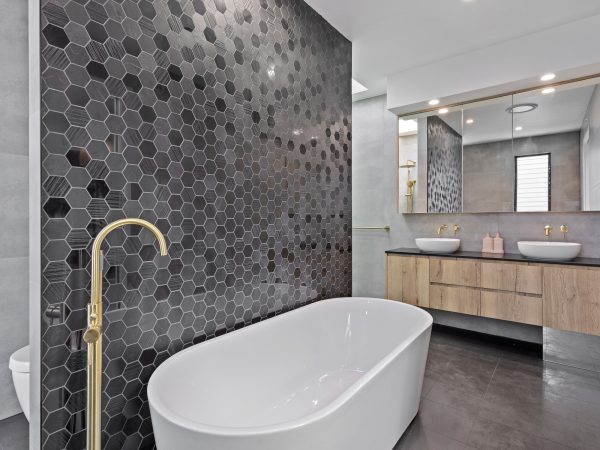 Mitred edges are a popular choice for laundry benchtops. The process involves cutting two pieces of stone at a 45-degree angle and joining them together to create a precise, polished joint. The result is a clean, continuous surface with no visible seams, which creates a modern and minimalist aesthetic.
Mitred edges are great if you want to achieve a high-end and sophisticated look for your laundry benchtop, while also ensuring a practical and durable surface for daily use.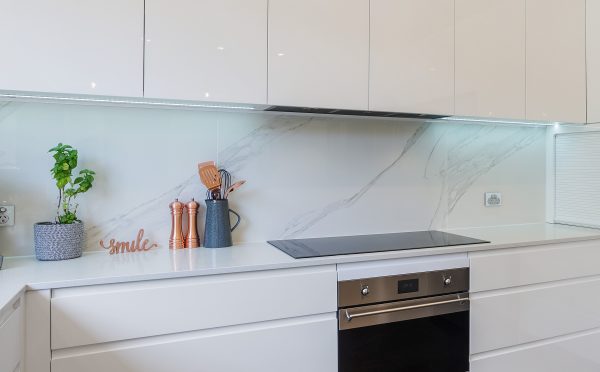 Waterfall edges are an elegant and modern design feature for stone laundry benchtops. This stone cascades down the sides of the benchtop, creating a continuous flow and a seamless transition between the horizontal and vertical surfaces.
Waterfall edges are suitable for engineered, concrete, granite, marble, and quartzite benchtops, and can add a touch of sophistication to any laundry room.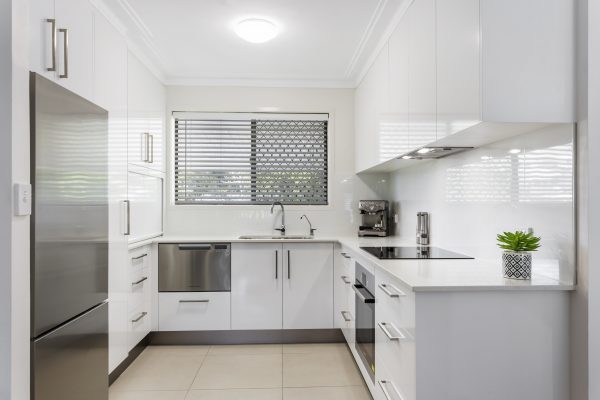 For laundry benchtops, the thickness of the slab doesn't affect the design, just the looks. Banks Benchtops offers the option of mitred benchtops for a seamless and polished finish. However, solid 30mm stone benchtops are a cost-effective alternative that requires less manufacturing.
These types of benchtops offer the same durability and beauty as thicker slabs, making them a practical and stylish choice for any laundry benchtop.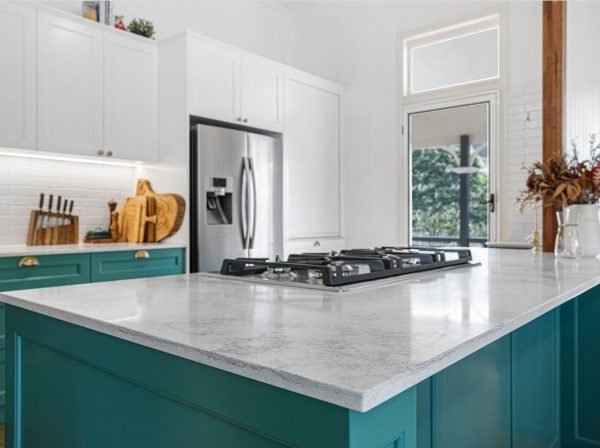 For stone laundry benchtops, there are three distinct finishes available – polished, matt/honed, and textured.
Polished finish is luxury, where the stone surface is polished to a high degree, giving it a lustrous and elegant appearance with a deep, intense colour.
Matt or honed finish, on the other hand, is less polished and has a less reflective surface. Textured finish, meanwhile, is exclusive to natural stone. Leather finish amplifies the stone's natural finish, while still being easy to maintain, while a flamed finish is rougher and typically reserved for granite benchtops.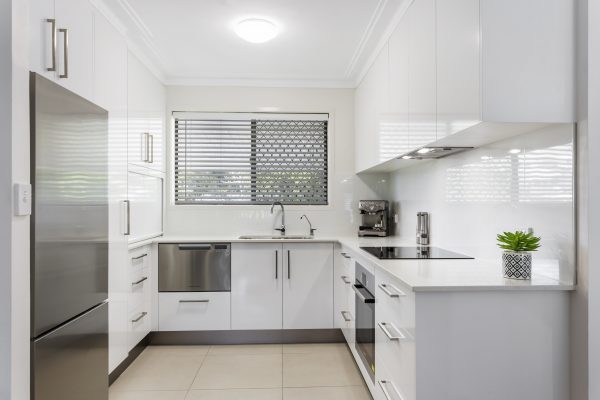 Installing an undermount sink when installing a stone benchtop in your laundry is an excellent way to achieve a seamless and modern look.
Unlike top mount sinks, undermount sinks are installed underneath the benchtop surface, creating a sleek and minimalist look that enhances the overall aesthetic of the laundry. By eliminating the need for additional cutting or drilling into the benchtop, undermount sinks provide a smooth finish that is easy to clean and maintain.
More Info
FAQs
What are the benefits of choosing a stone benchtop for my laundry?
Stone laundry benchtops are durable, heat-resistant, and can withstand scratches and stains. They are also a great investment for your home as they can add value to your property.
What is the difference between engineered stone, marble and granite, and which one is better for a laundry benchtop?
All three materials, including granite, marble and engineered stone, are excellent choices for laundry benchtops due to their durability, resistance to scratches, heat and stains. Marble is particularly suitable for intricate designs and adds a luxurious touch to the laundry.
While granite is harder and more resistant to scratches and stains, engineered stone offers a vast variety of styles and colours and doesn't require yearly sealing like marble and granite. Ultimately, the material you choose for your laundry benchtop will depend on your personal preferences and design aesthetic.
How do I maintain and clean my stone kitchen benchtop?
Maintaining your stone laundry benchtop is easy and straightforward. A simple cleaning routine using warm water or a mild household cleaner with a soft cloth or sponge is enough to keep your benchtop clean and well-maintained.
Abrasive materials and harsh chemicals should be avoided to prevent damage to the surface. To prevent stains, it's recommended to avoid direct contact with acidic or corrosive substances. While marble and granite benchtops require sealing up to once a year, especially for marble, engineered stone never needs to be sealed, making it an excellent low-maintenance choice.
How do I know which type of stone benchtop is right for my laundry?
At Banks Benchtops, our skilled team has years of experience in the stone benchtop industry and can provide you with guidance to choose the ideal brand and material for your laundry benchtop.
Can I install a stone benchtop without replacing my cabinets?
Yes, you can install a stone benchtop without replacing your cabinets. This is a great way to give your laundry a fresh new look without the expense of changing all the cabinetry.
How long will it take to get my stone laundry benchtop?
At Banks Benchtops, we strive to ensure that the entire process of installing your stone laundry benchtops on the Gold Coast and throughout Brisbane is seamless and well-organised.
To begin, we require a signed go-ahead quote and a 50% deposit to order the stone for your benchtop. Once we have the stone in our factory one week before the install date, we schedule the job two weeks in advance, allowing ample time for planning and measuring.
We typically measure on a Monday and install the benchtop that Thursday. This process ensures that we have enough time to plan and organise everything, providing you with the best possible service and an efficient installation process.
How do I choose the right color and design for my stone benchtop?
When choosing the colour and design of your stone laundry benchtop, you must consider the colour and style of your laundry.
At Banks Benchtops, we work with a variety of brands that offer a huge range of styles and colours for stone benchtops in Brisbane and on the Gold Coast. Our team can give you expert advice to ensure you make the right decision when choosing your laundry benchtop.
How much does it cost to install a stone benchtop?
The cost of installing a stone laundry benchtop can vary based on the size of the benchtop, the type of stone used, and the complexity of the installation.